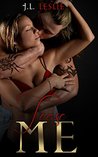 Tease Me by J.L. Leslie
My rating: 4 of 5 stars
Book: Tease Me (Zane Series #3)
Author: J.L. Leslie
Publication Date: 3/30/2016
Reviewed by: Tammy Payne- Book Nook Nuts
My Rating: 4 Stars
REVIEW
*May contain spoilers *
This is book three The Zane Series and we get a lot of good story in this book. It's about baby sister to those Alpha brothers Dylan and Stellan. This is Lennon's book and wow what a book the author gives us. Lennon is foot loose and fancy free. Well that is all about to change for her. One night while out at the club listening to a live band she runs into someone who says they have kissed. She denies it but he is persistent. Swift is a drummer in a band but he is also so much more. He cannot seem to forget Lennon and decides he wants her and plans a way to get what he wants.
The author gives us just the right amount of steamy romance, suspense and mystery.
My only issue with this book is the grammar. It is as if whoever edited it did not care about the missing words.
This book was free on Amazon.